Alcoholics Anonymous News and Events
Conferences, AA birthdays, Round-ups, etc. Approved at the District meeting. View the Calendar.
Birthdays
Birthdays will be posted (without the last name) at member's request only.
---
District 74 Meeting
---
Ontario Regional Conference of Alcholics Anonymous
click for the poster
March 9, 10 & 11 2018 at the Royal York Hotel Toronto
Details on their website,
AAORC
Book early. Don't be disappointed.
Download the Flyer / Registration form.
---
District 70 St. Patricks Day Round-Up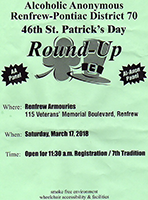 click for the poster
Saturday March 17, 2018 at the Renfrew Armouries
115 Veterans Memoril Boulevard, Renfrew
Doors open at 11:30 for registration

AA and Alanon Panels throughout the Day

7th Tradition

---
Area 83 Assembly
Area 83 holds two Assemblies each year in Kingston Ontario. One in the Spring and one in the Fall.
The next Area Assembly is happening
March 23-25, 2018
Upcoming assemblies:
Oct 26-28, 2018
Hey Everyone! Just wanted to remind everyone that the Kingston assembly is approaching quickly. For those who have not been there; We highly encourage you to attend. It is a wonderful weekend full of service workshops and lots of other information available also. The fellowship is great, and a excellent way to meet other AA members from the surrounding areas. Rooms should be booked as soon as possible, they do go fairly fast.
Ambassador Hotel and Conference Resort:
1550 Princess Street, Kingston, ON, K7M 9E3
ambassadorhotel.com
613-548-3605 | 1- 800-267-7880
updated January 14, 2018